While the global pandemic hasn't been as detrimental to the equipment rental and hire industry as it has to other industries, it hasn't been easy. The situation has presented some unique challenges. Growth hasn't been linear and operators must overcome global challenges to recover.
As we shift into the next 'normal' of pandemic life, we need to find new solutions to succeed in this unfamiliar landscape. To help your business not only survive but thrive, we've prepared an industry report on how to overcome the five key challenges and take advantage of future opportunities.
Download the Report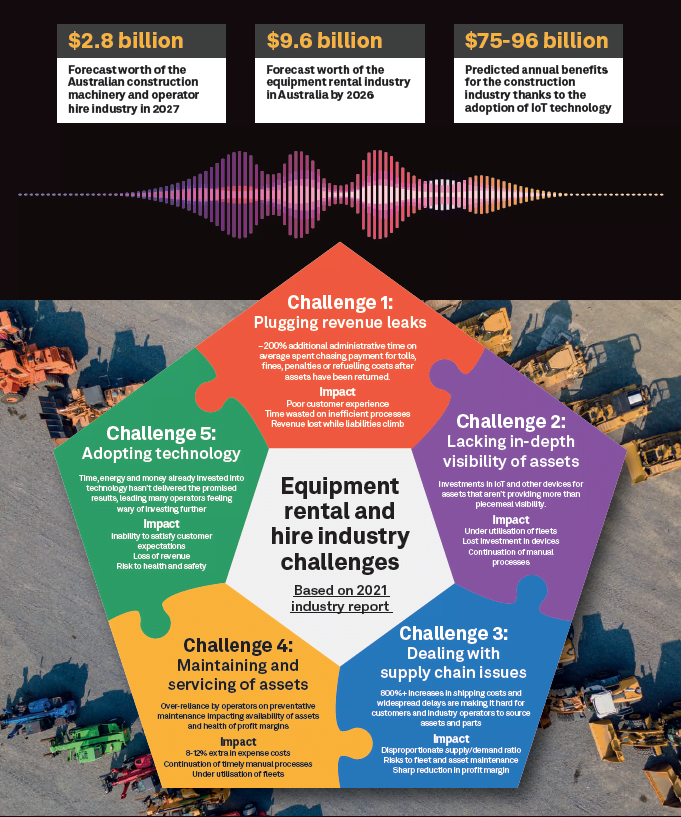 Challenge 1 – Plugging revenue leaks
Inefficient minor cost recovery processes waste precious time and resources. For example, one industry insider that we spoke to said that chasing up toll fees from some customers can double their administrative costs.
Our cutting-edge data fusion platform, PerspioTM, processes and analyses data from any connected device, asset, or system in real-time to deliver meaningful insights and actions.
As an example of how it can overcome this challenge, it connects operators' ERPs and finance systems to real-time toll and fuel reports so that the minor costs can be automatically added to invoices even before they return the asset.
This is just one of the many ways we can work with you to optimise your rental operation workflows.
Challenge 2 – Lacking in-depth visibility of assets
Most operators aren't currently using their IoT tracking technology to its full potential. Connecting assets, devices, and systems so they all seamlessly talk to each other provides in-depth, meaningful, and real-time visibility of assets.
Enhanced visibility gives your team greater awareness of:
machine utilisation
asset locations
site vehicle movements
asset operations
project activities
potential risks.
However, it's difficult to have this kind of in-depth asset visibility without having easy data access. Our data fusion platform PerspioTM ingests and processes your data, then uses it to generate real-time insights you can act on.
We feed your analysed data into your own enterprise applications, or our Smart Dashboards, meaning you get enhanced visibility without changing how you work. Our clever technology will streamline your processes, operations, and workflow. This, in turn, allows you to make immediate decisions to benefit your business' efficiency and safety.
Challenge 3 – Dealing with supply chain issues
The COVID-19 pandemic has caused global supply-chain issues which have impacted the equipment rental industry in Australia. Disruptions in manufacturing and shipping are creating delays in receiving imported equipment and parts from Europe and Asia.
Recent research shows that supply-chain visibility is now a major priority globally.
Supply-chain disruptions like these may be avoidable by using data fusion asset monitoring, powered by our PerspioTM platform. By translating all your equipment data into a single, easy-to-understand narrative, you can better predict equipment availability and help your team manage your fleet. This will help you avoid unnecessary delays and expenses.
Challenge 4 – Maintaining and servicing assets
Many industry operators rely on manual equipment checks and maintenance schedules to keep their machines in working order. But there are significant drawbacks to this approach because it:
takes longer to carry out
involves multiple people, leaving more room for human error
costs more because of the time and resources required for physical inspections
has higher safety risks due to the increased likelihood of unexpected equipment failures
is more likely to result in equipment failing on-site, which impacts customer relations and profitability.
When it comes to managing equipment with predictive maintenance programs, data fusion makes your data smarter, giving you more bang for your buck.
Our data fusion platform, Perspio™ connects your assets, analyses their data and makes it available to your teams in your existing operational systems. This means you know exactly what maintenance is needed and when.
As a result, your assets are less likely to fail unexpectedly, your maintenance costs and downtime will decrease and customer satisfaction will improve.
Challenge 5 – Adopting technology
Many in the equipment rental and hire industry have invested significant time, energy, and money installing IoT equipment sensors across their entire fleet. However, the promised benefits haven't materialised. The challenge now is using the data to maximise return on investment and truly realise the benefits of IoT technology.
Our data fusion platform Perspio™ leverages your existing investment by hooking up your current IoT devices or equipment sensors to your ERP and other current systems to deliver actionable insights without you changing the way your team works.
Instead of transforming your systems or tools, we work with you to make them more powerfully useful to you and your team.
Want to overcome and triumph?
Download our report now to learn more about how to overcome the challenges facing the equipment rental and hire industry so that your company can not only survive, but thrive.
Download the Report